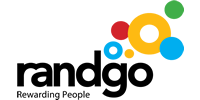 Randgo provides meaningful attraction and retention solutions that drive behavioural change through engagement.
Randgo is known for specialist services in linking your customers, members or staff with relevant brands and benefits, experiences and lifestyle services that save them time and money.
In this way, you're able to attract new members and retain existing members, by giving them access to the personalised products and services that excite and engage them.
At the same time, Randgo gives you valuable insights into your member base, via actionable intelligence – allowing you to build meaningful relationships with your members.
Because we're more than just a benefit provider, you get more than just savings for your members. You get meaningful, completely customisable end-to-end solutions that are agile enough to evolve in line with changing industry needs.
Plus, Randgo maintains the infrastructure, knowledge and talent to offer all clients a 360-degree solution, from concept to execution, if that's what they require.